Volunteer Spotlight: Ruthy Rosenberg, Mark Patterson, Jennifer Schneider – Communications Committee
By Tiffany Chen, Eastern Michigan University, Volunteer Coordination Committee
IOA has always been both a passion-driven and volunteer-driven organization. The Volunteer Coordination Committee would like to recognize the efforts of our volunteers who keep everything running. It is through our collective efforts that our organization has developed into what it is and, more importantly, into what it will become.
This spotlight post is to not only recognize some of our fellow IOA members but also to make a shout-out to their amazing team that helps maintain both our external as well as internal communications – The Communications Committee (ComCom).
We would like to highlight a few individuals within the committee for recognition: Ruthy Kohorn Rosenberg, Mark Patterson, and Jennifer Schneider.
---
Ruthy
Kohorn 

Rosenberg, Communications Committee Co-Chair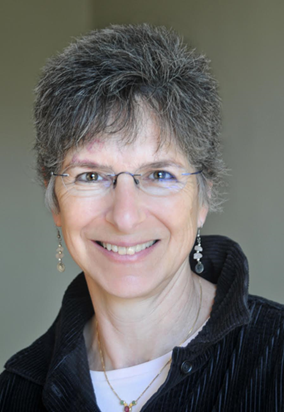 Ruthy currently serves as the ombuds for Brown University and she is the Co-Chair of the Communications Committee (ComCom). Ruthy has previously served on the IOA Board of Directors and initially came to ComCom as board liaison. 
Before working as an ombudsman, Ruthy worked in multiple contexts as a mediator and in university administration. These experiences led to her interest in working as an ombudsman. What inspired her the most about this field is that it simultaneously helps people and helps organizations to change culture.
Inspirations as a Volunteer
I chose the Communications Committee because it is fun - you get to see what is going on both internally and externally. The committee advises on how to create content for the organization and makes recommendations to the Board as to what communications should be.

Some of the things I am proud of when it comes to the Communications Committee is that we have had a huge increase in media activity. We've increased and improved the email communications to both members and nonmembers. We have had an amazing collaboration with our external PR company – Westforth. Our recent collaborations include the production of a video that has made an immense difference in external marketing for the IOA. We are expecting great things from them. Our aim is to soon make our blog public for nonmembers so that others can see what is going on within our field as ombudsmen.

One of my biggest goals for my volunteer work with the IOA is to expand the number of offices and increase the support for ombuds while creating community.
Advice to Prospect Volunteers
You come have fun. We do everything on SLACK – we are a fun group. You get a lot of insight on how the organization works and how to get our work out through marketing communications. You would love it! You would be working with all the knowledge that IOA is producing. You also get the benefit of hearing things first.
Fun facts: What is your favorite way to relax and recharge?
Quilting. I am a quilter.  J
---
Mark Patterson, Communications Committee Member and Conference Committee Co-Chair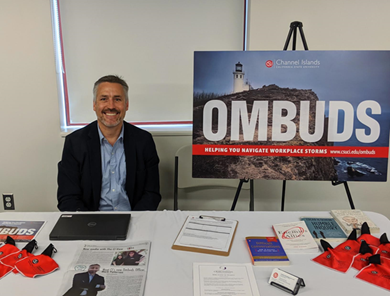 Mark is the ombudsman at the University of California Channel Islands. As a volunteer, he is the liaison between the Communication Committee and the Conference Committee.
Inspirations as a Volunteer
I think what I enjoy most about volunteering is the opportunity to shape the development of the profession and how we serve various communities. I spent much of my professional life being a lawyer for the military. There, you aren't shaping your profession, you're just dealing with client issues. Volunteering with IOA is an opportunity to shape the profession and be a leader.
I would like to help better define the profession. I would like to support the development of model codes for how ombuds would be treated in the world. I want people to know about ombuds as a resource that is recognized for a distinct skillset and standards that are embraced as effective for organizations rather than just things we individually like.
Advice to Prospect Volunteers
Volunteering in the organization is a wonderful way to make connections -- not only professional connections but also wonderful friendships. It is very rewarding and I can really see how we have pushed boundaries and reached out through the work we do. My advice is to not hesitate or think you won't fit – you never know what you will get out of the experience.
A benefit of participating and volunteering is that it really links you with other ombuds who are also trying to push the boundaries and establish good practice in their work. You know who to go to for various issues or obstacles.
Fun facts: Name one book or professional development item you recently read and what you found most helpful from?
Book: The Art of Gathering
Author: Priya Parker
It's not focused on ombuds work, but I have enjoyed it from a conference perspective. We need to be more intentional when we gather, regardless of the circumstances; we need to be more intentional with the way we use and develop that time together. I think this is helpful when thinking about the IOA 2020 conference, but also when considering how we help people in our own universities (or organizations) plan meetings or group interactions. This is a great resource in that it is a simple and fast read, especially for those who facilitate difficult group interactions.  
---
Jennifer Schneider, Communications Committee Member

Jennifer is the student ombuds at the University of South Florida. She is currently a member of the Communications Committee (ComCom) as the editor of The Independent Voice (IOA's newsblog). She also volunteers with the Research and Assessment Committee and has recently begun working on a webinar for the Professional Development Committee and engaging with other volunteer groups in IOA.
Inspirations as a Volunteer
My favorite part of volunteering with the IOA is definitely the people. Ombuds, in general, are kind, intellectually curious, and fun. It's refreshing to be able to engage with others who understand the successes, frustrations, and nuances of our work. They really are my friends.
As a volunteer, my goal now is to do less better. J IOA is in such an interesting liminal period (thanks, Jon Lee!). There's so much to do, and it all seems worthwhile to me. My "day job," however, is becoming increasingly demanding, and so I have recently pulled back a bit in an attempt to redefine my personal and professional boundaries. I've been a part of ComCom and R/A for several years now, so it has been fun to explore other areas and get to know different people.
Advice to Prospect Volunteers
DO IT!! I am queen of imposter syndrome. There are so many rock stars in IOA, and it can be intimidating to step into a space where you may feel less experienced, less intelligent, less extraverted… but I think there's a place for all of us. The more people we're able to engage– volunteering, making suggestions, challenging assumptions -- the easier it will be for us to understand, articulate, and enhance our profession. We need you. If you're still unsure, call me. J
Fun facts: Name one book or professional development item you recently read and what you found most helpful from?
Book: The Power of Vulnerability
Author: Brené Brown
It reinforced much of what I've recently been learning (and sharing) about the concept of trust. (Rita Callahan's recent IOA webinar is also a great resource!)
Also, USF recently hosted Kevin Kruger, who is the President of NASPA (Student Affairs Administrators in Higher Education). He discussed the fiscal, demographic, and outcome pressures facing higher education and the need to look at transforming the roles and expectations of faculty and staff, and it was very interesting to me. He goes over some of that content in this link, but the live presentation was much better!
---
What is the purpose Communications Committee?
To think strategically about internal and external communications for the IOA. To act as gatekeepers for all communications. In collaboration with the management company, to assist in the development of content from IOA committees, provide ideas about content, advise on critical communication responses, advise on strategies for social media communication.
Share this post: